Side Ancient City​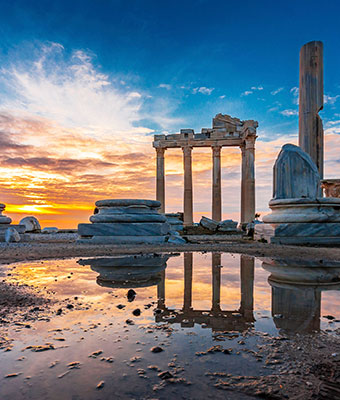 About the city: Side is a holiday resort in Antalya's Manavgat district. As it is known, Antalya is one of the centers of summer holidays in Turkey. Side is one of the most preferred holiday resorts in Antalya. In Side, which has a population of 14,115 under normal conditions, this rate doubles during the summer season. This charming town, one of the oldest cities in the world, is rich in history, archeology and culture.
How many days to visit: 2 days will be enough to visit Side.
Best time to visit: The most popular season of Side, which is under the influence of the Mediterranean climate, is undoubtedly summer. Side, which is heavily flooded with tourists especially in June and July, can also be visited in spring months such as September or May.
Museum cards: Although there is no special museum card for Side; With the Müzekart and Müzekart+, which are valid in many cities of Turkey, it is possible to enter many places such as Side Museum, Side Antique City and Side Antique Theater with a discount or free of charge.
Airport/Central Transportation: Transportation to Side by air is provided by Antalya Airport. To reach Side from Antalya Airport, facilities such as HAVAŞ, bus and transfer are available at the airport. Click for more detailed information about the transportation possibilities of Antalya Airport: Transportation Guide from Antalya Airport to the City Center
What to Eat: Olive oil dishes, salads, vegetable dishes, herb roasts and seafood are dominant in Side cuisine, as in the whole Mediterranean geography. Therefore, Local Dishes of Antalya | Our article titled 17 Tastes will also give you an idea about Side cuisine.
Average restaurant fee per person: 30-35 TL
Average cost of coffee per person: 15 TL
Note: Maybe price is changed because there is high inflation in Turkey.
Side Ancient City​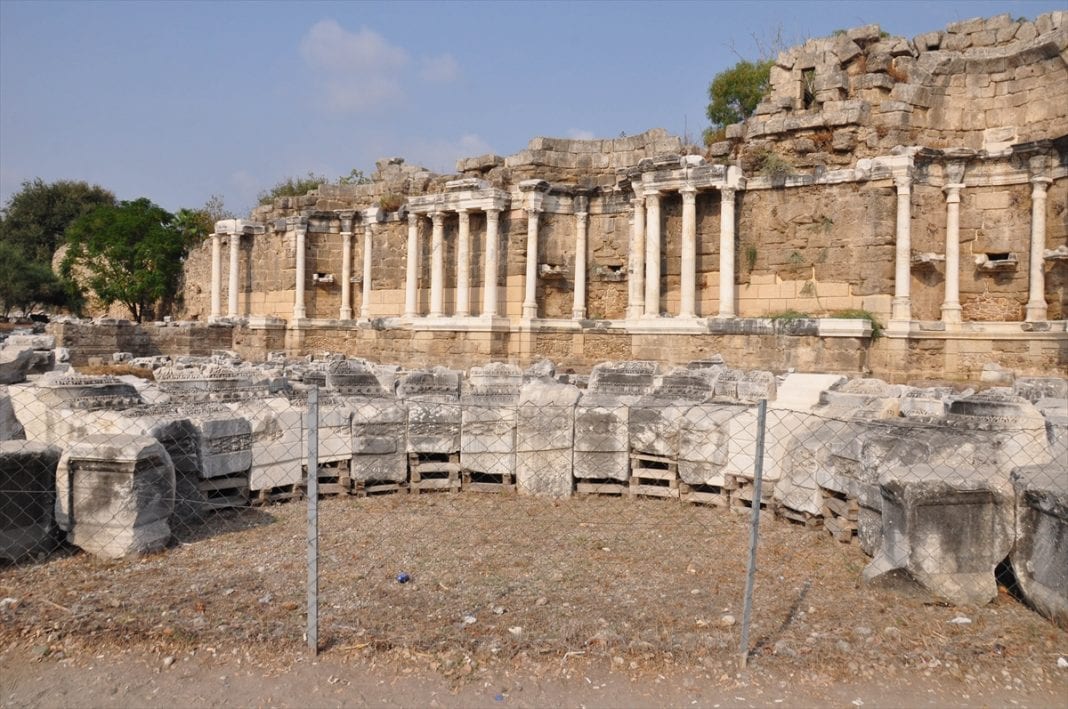 Where is here? It is estimated that the foundation of Side, one of the oldest settlements in Anatolia, dates back to the Hittite Period in the 7th century BC. Respectively; The city, which was the living space of the Hittites, Lydians, Persians, Romans, Byzantines and Ottomans, continues to carry the traces of each of these periods. Side Antique City, one of them, attracts great attention every year, especially by history and archeology enthusiasts.
It has been determined that Side, which means "Pomegranate" in the Anatolian language as a name, has a unique language. This language, "Sidece", which was unearthed with inscriptions, is thought to be a language of Luwian origin used by the Luwians, the indigenous people of Anatolia, in various sources. Side, as an important port city, had a very important position as the science, culture and trade center of the period.
Why should I go? Before converting to Christianity; Side, where there is belief in many gods such as Aphrodite, Ares, Asklepios, Hegaia, Kharits, Demeter, Dionysus, Hermes, especially Apollo and Athena, is very rich in terms of temples. However, the ruins of the city, which was destroyed by the Arab raids, the attacks of the Kings of Cyprus, the attacks of the Genoese, Venetian and Rhodes pirates, and the looting during the Crusades, constitute the main building blocks of the Ancient City of Side.
These structures are: City gate, walls, Nymphaeum, colonnaded streets, waterway, Triumphal Arch, Commercial Agora, Ancient Theatre, Agora Bath (Side Museum), Vespasian Fountain and Monumental Gate, Dionysos Temple, basilica, Harbor Bath, Episcopal Palace and Basilica, It consists of the Temple of Athena, the Temple of Apollo, the Southern Basilica, the State Agora, the Great Bath, the Baptistery and the Wall of Philippus Attius.
Built on a peninsula in Antalya, Side Antique City, like other ancient cities of Pamphylia, starts from the main gate and stretches along an ancient street with columned porticos with Corinthian caps on both sides. This ancient city, which is both one of the important tourism spots of Antalya and the symbol of Side, must be seen!
Address: Selimiye Mahallesi, Çağla Sk. 07330 Manavgat/Antalya
Working hours: Summer Period (April 15 - October 2): 08.30-19.30 / Winter Period (3 October-14 April) 08.30-17.30
Entry is free